14 Tips for Applying Blush Perfectly, Every Single Time
Finally learn how to apply blush for your face shape.
Of all the amazing beauty products out there, you might overlook blush as an add-on: Rookie mistake. Just a few swipes of blush can make your complexion look healthier, and make your skin look more youthful. It adds a glow that bronzer and highlighter just can't mimic. However, it can be one of the most confusing makeup products to use. It's not as simple as a swirl on your cheeks.
Whether your blush won't stay put, you're worried you're using the wrong color or formula, or you just don't even know where to start, we're here to help. Getting a pretty, long-lasting glow is possible, no matter if your skin is naturally oily, dry, or just plain sweaty. These brilliant blush hacks that make this super flattering (and surprisingly versatile) product work for your face shape, skin tone, and lifestyle.
1. First, prep your skin the right way.
To make your blush blend into your skin and stay put all day, always wash and moisturize your face first. Dry (or oily) skin doesn't hold makeup as well, so keeping your skin healthy, exfoliated, clean, and supple allows makeup to blend in beautifully and last longer.
To make your blush last even longer, start with a makeup primer, which preps skin and gives a no-slip canvas to help makeup last all day. If you don't want to invest in another beauty product, layer blush on top of foundation or a tinted moisturizer to even out your skin tone and help give the blush something to stick to.
2. Pick a shade that works with your skin tone.
Blush isn't a one-size-fits-all kind of deal — you need to choose the right shade to flatter your complexion. Something too dark or too bright can actually age you instead of giving you that warm, youthful glow. The key is to choose something that's close to your natural flush and the best way to figure out what that is is to pinch your cheeks. If you're still not sure, here are some tips for finding your best shade:
If you have very pale, fair skin, opt for light pinks for a pretty flush of color that won't overpower your tone. Pale pink and lilac formulas give a sheer wash of color that flatter your light complexion without looking garish. A safe bet? Covergirl Cheekers Blendable Powder Blush Natural Rose. It's a Beauty Award Winner and under $4.
If you have light-medium skin, choose a peachy pink shade to give your skin a pretty glow. Since this shade is universally flattering, if you're in doubt, try it in your desired formula. We love NARS Blush in Orgasm and Maybelline Face Studio Master Glaze Blush Stick in Coral Sheen.
For golden or olive skin tones, the warm undertones to the skin can stand up to brighter, punchier pinks. We like Revlon Cream Blush in Flushed for these medium skin tones.
Darker skin tones can go for brighter hues with warm undertones, like a bright apricot, to deliver an ethereal glow and truly radiant results. Try Milani Baked Blush in Corallina — While the shade seems bright, it buffs into the skin for a natural look.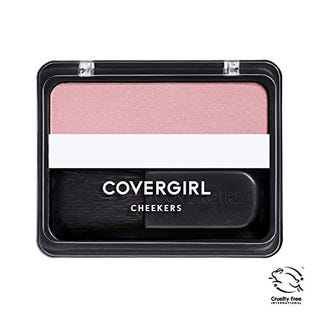 FOR FAIR SKIN TONES
Cheekers Blendable Powder Blush Natural Rose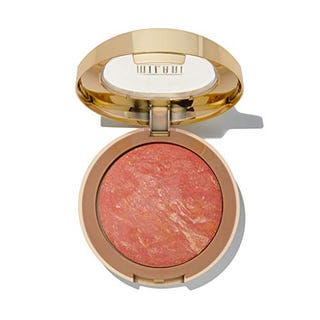 FOR DEEP SKIN TONES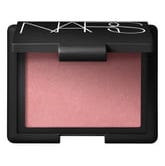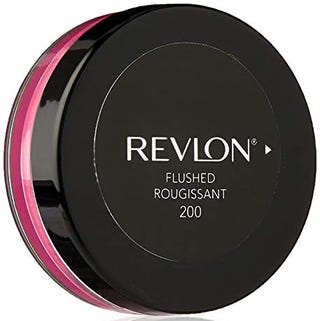 FOR OLIVE SKIN TONES
3. Find the right blush formula for your skin type.
Picking the right blush is about more than just the shade — you need to find the perfect formula, too. There are three types of blushes: powders, creams, and stains.
If you have oily skin, a cheek stain works well. Stains look dewy and last for ages, even if you tend to sweat or have oil-prone skin. Apply a little at a time — once it sets into your skin, it's hard to blend out (hence the name!).
If you have normal or combination skin, creamy formulas are great and have high staying power. Cream blush is easy to use for most skin types, comes in tons of colors, and gives skin a fresh, youthful look.
If you have dry skin, stick with a powder formula. Powder blush is great for gliding over pores for a blurring effect and despite popular belief, stains and creams aren't so great for dry skin: They can crack when they dry, which exacerbates the look of dryness.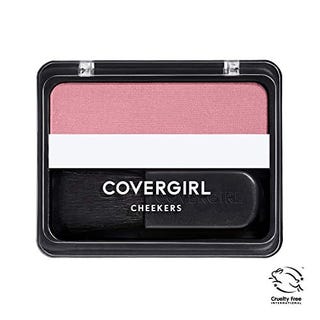 POWDER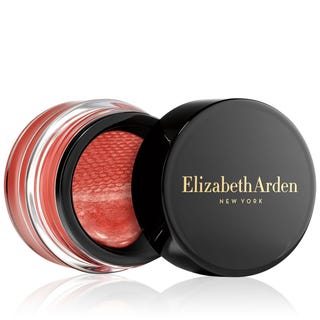 GEL CREAM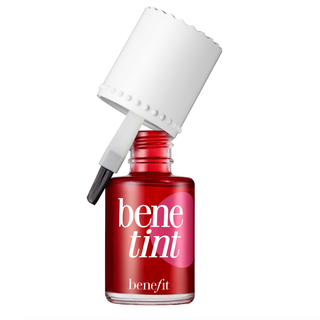 STAIN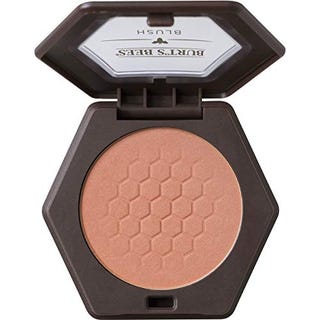 POWDER
4. Pick the right blush brush.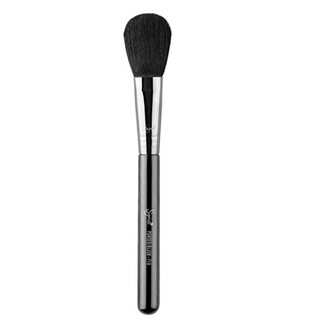 SIGMA BEAUTY
It's true that your makeup will only look as good as the tools you apply it with, and "if you're going to spend money on any tools, spend it on a blush brush!" advises Laramie Glen, a makeup artist based in NYC. "It should be dense, natural or vegan hair, soft, and easily able to diffuse the color." A tightly packed brush can pick up too much product and overload your face with color, but a loose brush picks up less product while still offering a pretty color payoff that's strong enough to make a difference.
Makeup artists and the experts in the Good Housekeeping Institute Beauty Lab tested the best makeup brushes and recommend the Sigma Beauty F10 Powder/Blush Brush: it's soft, easy to maneuver, and won't break the bank. Swirl the brush in product and be sure to tap off any excess before applying to your face so you don't wind up with a big dab of color on your cheek.
5. Apply blush according to your face shape.
Blush is meant to strategically accent your face, which means you need to take your bone structure into account before applying it in the first place.
Heart-shaped faces: If your face is long with prominent cheekbones and a narrow chin, you likely have a heart-shaped face. Apply blush in a "C" shape from the top of the temple down to the cheekbone. Use more product along the cheekbone, then diffuse it up towards the temple, pushing it in and upwards. Don't go overboard with your application: "You want a blended look since it's on more than just the cheeks," Glen warns.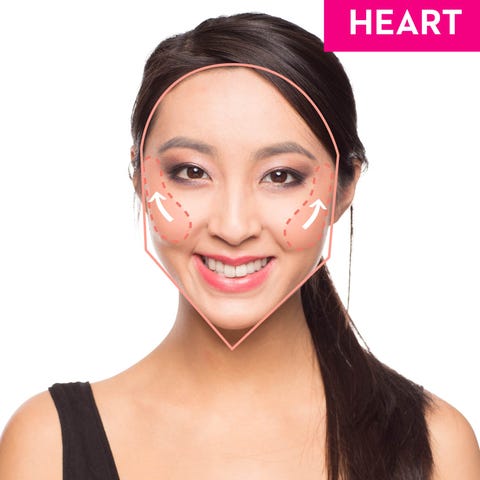 KATHRYN WIRSING/DESIGNED BY DANA TEPPER
Oblong faces: If your forehead, cheeks, and jawline are all about the same width, you have an oblong face shape. Hit the apple of the cheek with blush starting at the most prominent part of the cheek, blending color towards the nose and bringing it out towards the temple. Add a touch of blush on the forehead and the sides of the brows to bring the look together.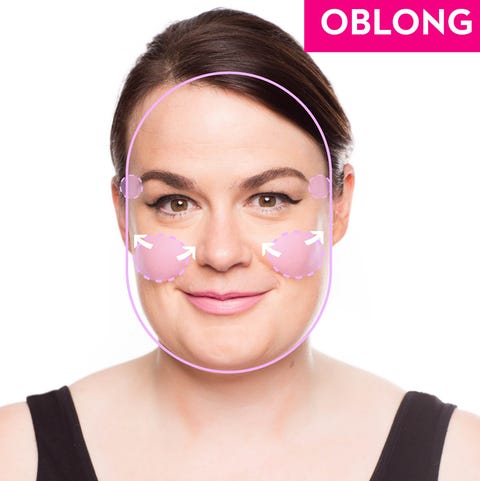 KATHRYN WIRSING/DESIGNED BY DANA TEPPER
Square face: If your facer has straight sides and a fairly flat jawline (think Olivia Wilde or Angelina Jolie), you have a square face. "With a square face, you want to hit all of the cheekbone from the corner of the brow to the hairline," says Glen. With long, light motions, sweep blush across the cheekbone, starting low and moving upwards. Pull blush from the eyebrow down to the nose, very softly and blended.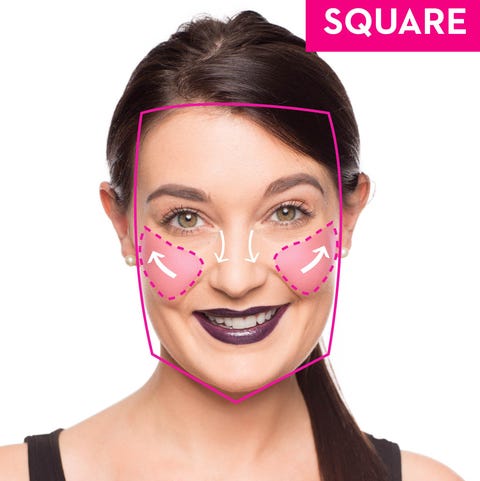 KATHRYN WIRSING/DESIGNED BY DANA TEPPER
Round face: If your cheeks are the fullest part your face and and you have a curved jawline, you have a round face. For the best blush, look in the mirror, smile, then swipe blush on the apples of your cheeks. Using a foundation brush and medium-size strokes, brush color up towards the temple and down towards the earlobe to blend.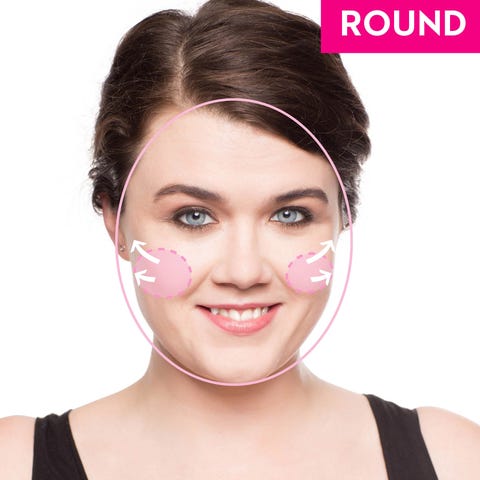 KATHRYN WIRSING/DESIGNED BY DANA TEPPER
Oval faces: If your face is long with somewhat prominent cheeks, a narrower chin, and a narrow forehead, your face is oval. Glen recommends starting at the most prominent part of the cheekbone and using soft strokes, bring blush down towards the earlobe and blend up towards the temple. Add the slightest bit just above the temple, too, for balance.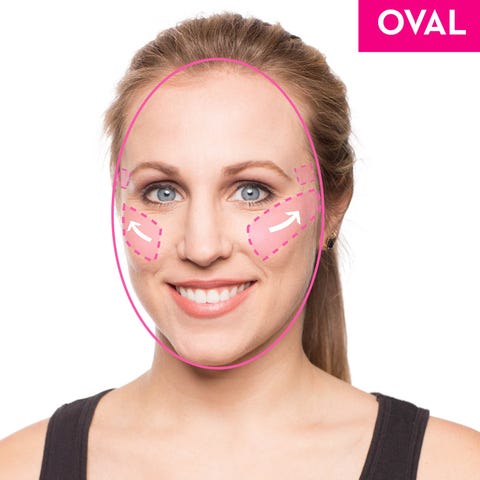 KATHRYN WIRSING/DESIGNED BY DANA TEPPER
6. Blend, blend and blend.
Just applying blush in the right areas is not enough — you need to make sure it's blended well too. Use a damp sponge or a stiff brush to blend your blush into your face. Remember: Your blush should mimic a natural flush, not clown makeup. You want the color to blend with no harsh lines while still giving noticeable, glowy color.
7. Mute too-bright blush with sheer foundation.
If you accidentally pile on the blush, don't grab the makeup remover. Instead, tone down a bold blush by dabbing a bit of sheer liquid foundation over it using a wet makeup sponge to evenly distribute. This will dial down the color while still leaving a rosy glow.
8. Learn to use blush in every step of your routine.
One of the best things about blush: You can use it on any facial feature. Blend cream blush onto your cheeks, sweeping the blush from the cheekbones up to the hairline using a loose synthetic brush. Then, use what's leftover on your finger to dab it on your eyelid, blending upwards towards the brow. Avoid putting any color next to your lash line — you don't want to wind up looking sick.
Glen adds, "If you do a red or pink blush on the eyes, it either has to be further away from the lashes or have a black eyeliner separating it from them." Finish off by taking more blush on your finger and press it to the center of your lips, blending out. Add a swipe of your favorite lip balm and you're all done.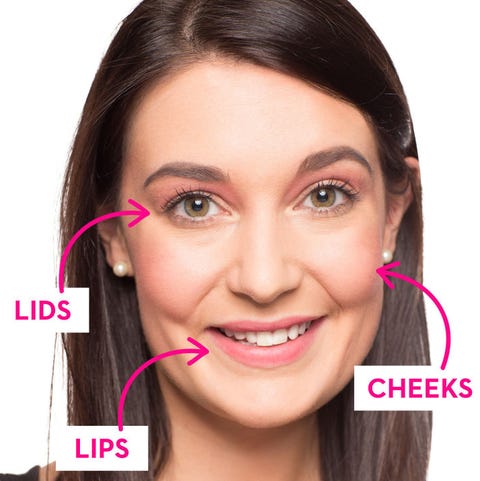 GETTY IMAGES
9. Set your blush with a tissue.
While translucent powder can be a great product to set your makeup with, Glen warns that this can give your skin a dull look, especially if your skin trends dry. Instead, blot your blush by holding a tissue to your cheek, then lightly pressing with a makeup sponge. This absorbs any extra product without dulling your glow.
10. Know when to skip shimmer formulas.
Shimmery blush can make smooth skin look luminous and glowy, but Glen warns against using it on rough, dry, or uneven skin textures — the shimmer can magnify pimples, bumps, and large pores. If you have textured skin or are dealing with winter dryness, stick with matte or cream finishes.
11. Don't forget blush when contouring.
We all know by now that contouring is a great way to carve cheekbones and jawlines using just makeup, but if you don't add blush to the finished product, you're missing an important step. Contour queen Kylie Jenner swears by adding extra blush at the end of her makeup routine.
"Blush makes me feel ... like my whole look is complete," she says as she applies the finishing touches. Use it to add warmth to your cheeks and cheekbones after applying your contour, and just before you finish with highlighter. It makes the finished product look warmer and more natural.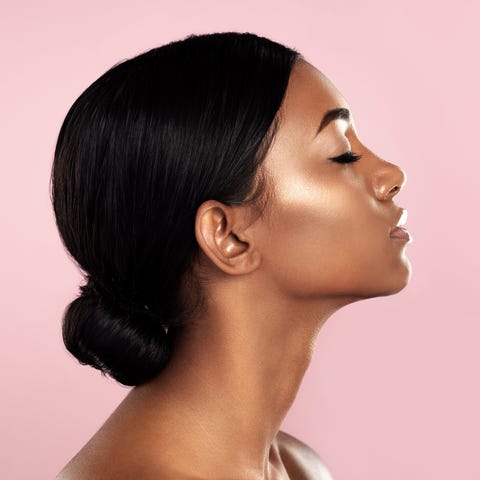 PEOPLEIMAGESGETTY IMAGES
12. Layer blush formulas for long-lasting results.
Gearing up for a long day or a special occasion where you won't be able to touch up your makeup? Layer a powder blush over a cream or gel formula for a beautiful, customized look that won't quit. But remember: You want to apply double the formula, not double the color. Use each product sparingly to avoid going overboard — you don't want to show up looking like a Toddlers & Tiaras contestant.
13. Dot on a little lipstick as a makeshift cheek color.
If you're in a pinch and don't have any blush on hand, add a little color to your cheeks with a bit of lipstick. Just make sure to blend quickly — if it's a highly pigmented lipstick, it could set fast and look blotchy.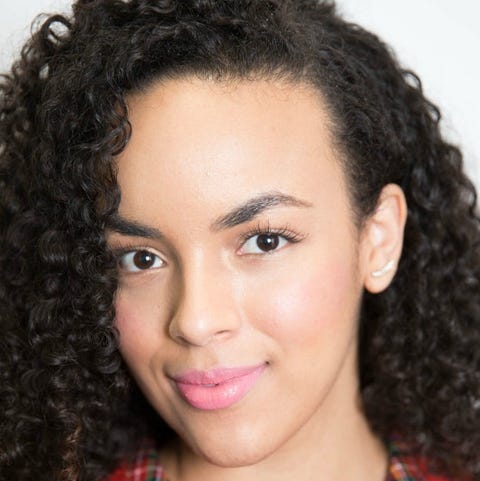 Yes, that blush is actually lipstick!
KATHLEEN KAMPHAUSEN
14. Finish your look with a setting spray.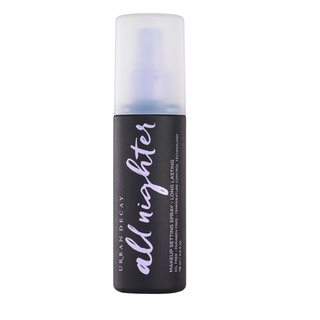 URBAN DECAY
Seal in your look without drying out your skin or adding another layer of color by spritzing a setting spray all over your face after your finish applying your makeup. One of our favorite picks is Urban Decay All-Nighter Long Lasting Makeup Setting Spray. Mist onto face in a both X- and T-motions to cover all sides of your face and lock your makeup into place all day (or night) long.
Source: goodhousekeeping
What's Your Reaction?