Here's What Your Favorite Female Movie Stars Wore to Their First Oscars
As the oldest entertainment awards ceremony, the Oscars has seen a lot of historic moments. Tearjerking speeches, heartwarming tributes, incredible performances, awkward encounters, and, of course, so many beautiful outfits. Take a look back at what your favorite female stars wore to their first Academy Awards ceremony, including timeless gowns, scandalous outfits or out-of-the-box picks.
1935: Shirley Temple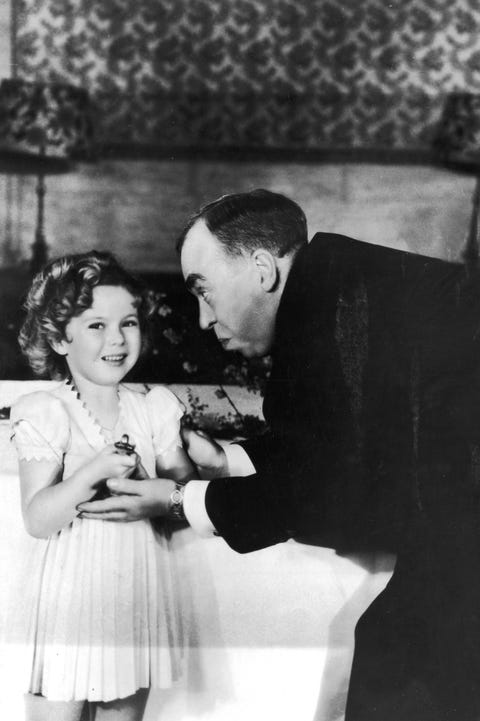 GETTY IMAGES
At the seventh Academy Awards ever, little Shirley Temple was awarded the first Juvenile Award at age six — an achievement that makes her the youngest Oscars recipient in history.
1936: Bette Davis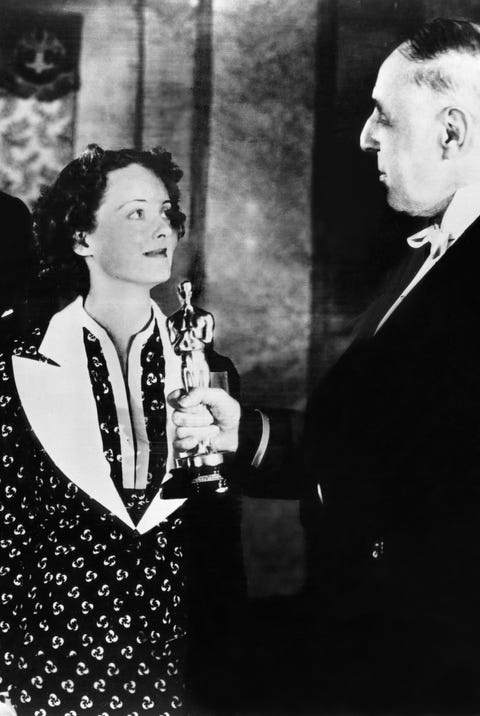 GETTY IMAGES
On top of winning for Best Actress for her role in Dangerous, Davis also presented a special award for creative achievements alongside Victor McLaglen to D.W. Griffith wearing a fun, menswear-inspired dress.
1939: Bette Davis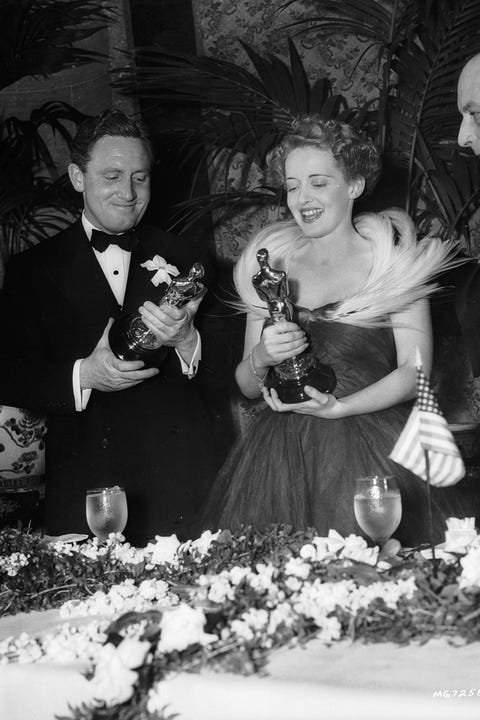 GETTY IMAGES
Okay, even though we already showed you Davis's first Oscars look, this eccentric feathery gown is just too cool not to include. Plus, this starlet won the award for Best Actress yet again that year!
1945: Ingrid Bergman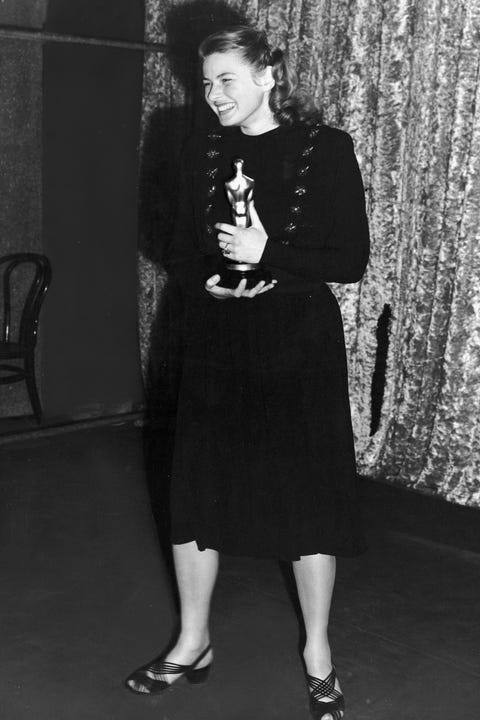 GETTY IMAGES
For her iconic performance as Paula in Gaslight, Bergman earned herself the Oscar for Best Actress, accepting the award in this cool tea-length dress.
1946: Joan Crawford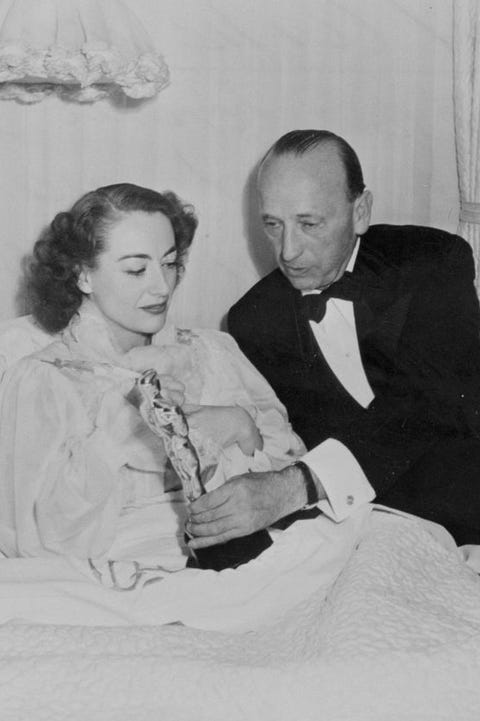 ARCHIVE PHOTOSGETTY IMAGES
Joan Crawford accepted her award for Best Actress in Mildred Pierce from her bed, as she was sick and didn't attend the ceremony. Only this icon could make her bed and négligée look as glamorous as a Hollywood red carpet.
1952: Lauren Bacall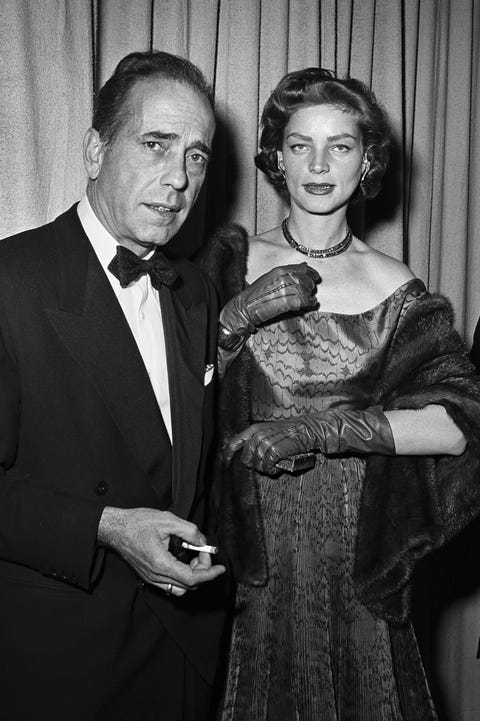 GETTY IMAGES
Even in seemingly candid shots, Lauren Bacall looks absolutely striking standing with then-husband Humphrey Bogart in a patterned satin gown with chic gloves and a fur stole.
1954: Elizabeth Taylor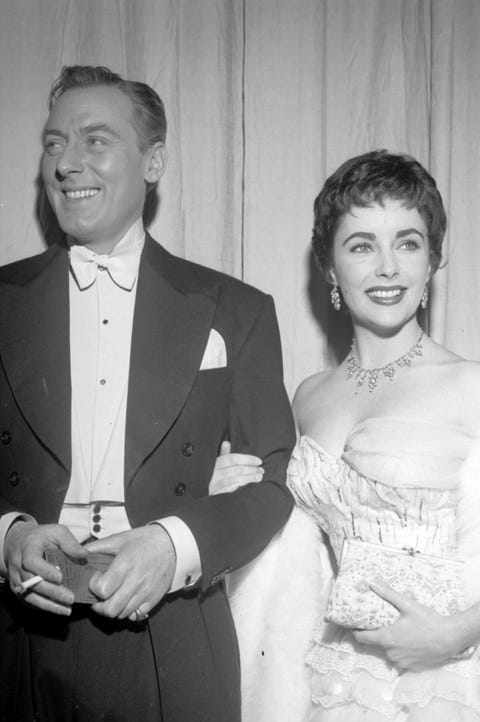 GETTY IMAGES
A fur coat? Check. A stunning gown? Check. A second husband? Check. Liz had it all at the 1954 Academy Awards, where she presented the Documentary Awards.
1954: Audrey Hepburn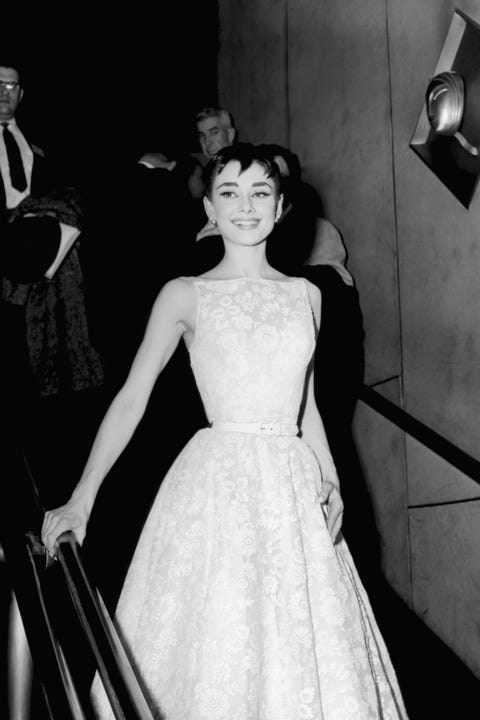 GETTY IMAGES
Looking every bit the winner she was that evening — she earned the Academy Award for Best Actress in Roman Holiday — Hepburn wore a breathtaking Givenchy design so memorable, it has its own Wikipedia page.
1954: Grace Kelly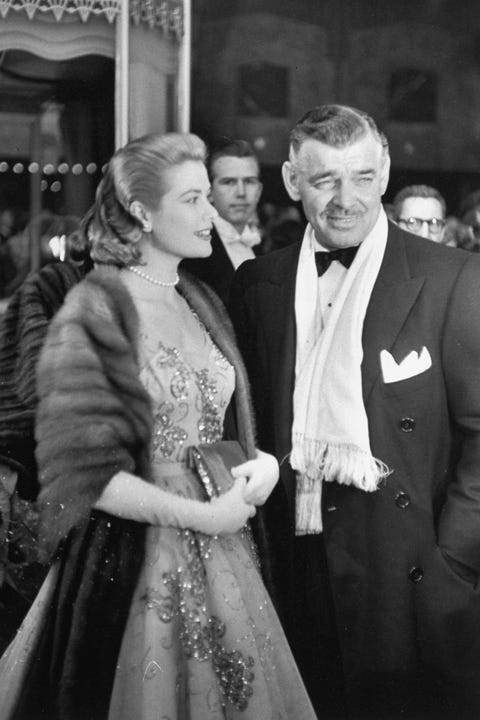 GETTY IMAGES
Standing alongside Clark Gable, Grace Kelly truly embodied Hollywood glamour in her fur shawl, beaded gown, and opera gloves. Though she didn't get the Oscar for Best Supporting Actress for her role in Mogambo, there's no denying this look is truly a winner.
1968: Barbra Streisand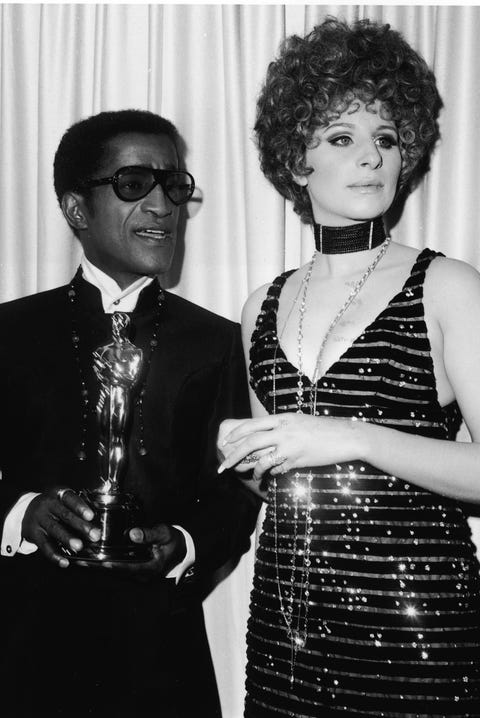 GETTY IMAGES
Leave it to Babs to wear this totally show-stopping number while presenting the Oscar for Best Original Song to Sammy Davis Jr., who accepted the award on behalf of composer Leslie Bricusse.
1968: Cher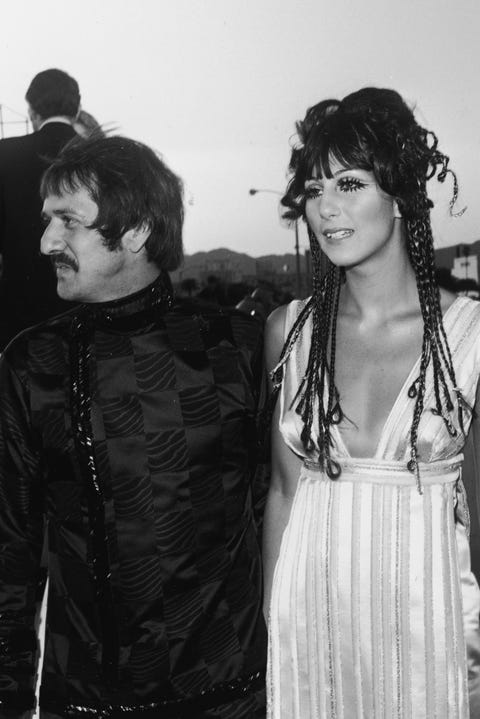 GETTY IMAGES
Looking unique as always, Cher walked the Academy Awards red carpet with then-husband Sonny Bono wearing a white satin gown with a plunging neckline.
1978: Farrah Fawcett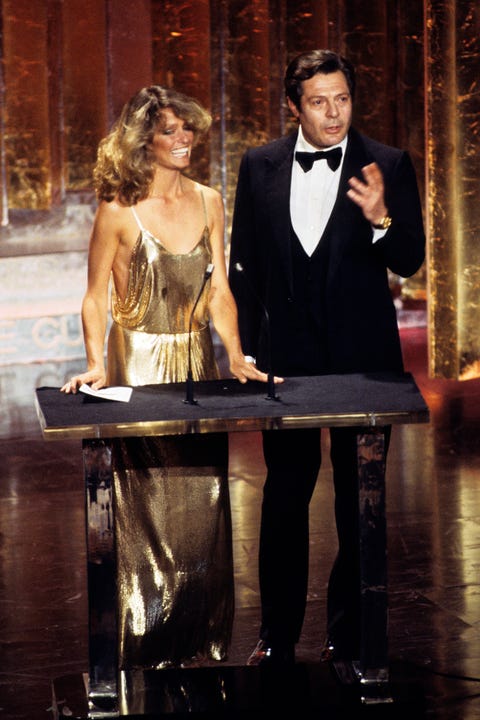 GETTY IMAGES
Looking more radiant and gilded than an actual Oscar statue, Fawcett presented the award for Best Film Editing alongside Italian actor Marcello Mastroianni in a stunning gold dress.
1979: Meryl Streep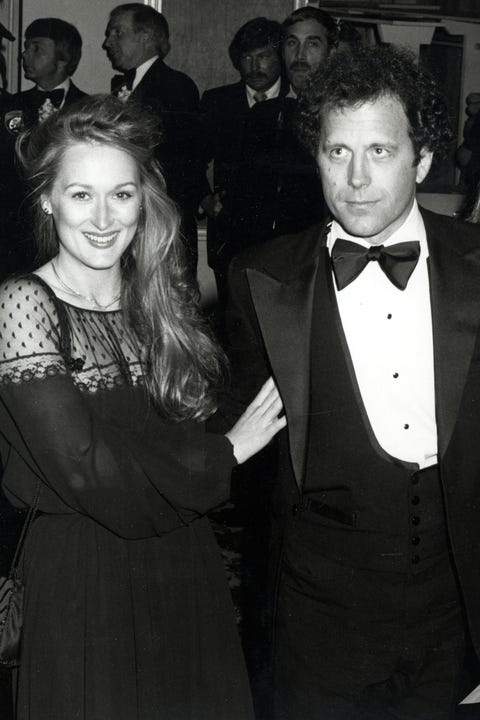 RON GALELLAGETTY IMAGES
Today, Meryl and the Oscars go hand in hand, but before she won her first award in 1980 for Kramer vs. Kramer, the actress made her Academy Awards debut when she was nominated for The Deer Hunter. She wore a black long sleeve gown with sheer detailing and was accompanied by her husband, Don Gummer.
1990: Julia Roberts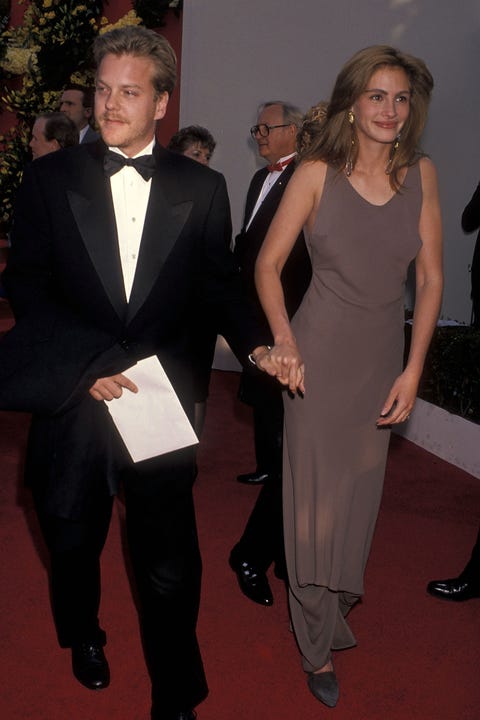 GETTY IMAGES
If anybody can look glowing in a clingy brown dress, it's Julia Roberts. While her relationship to Kiefer Sutherland didn't work out, her career certainly did — Pretty Woman was released just three days before this Academy Awards ceremony, making her a massive star that year.
1994: Anna Paquin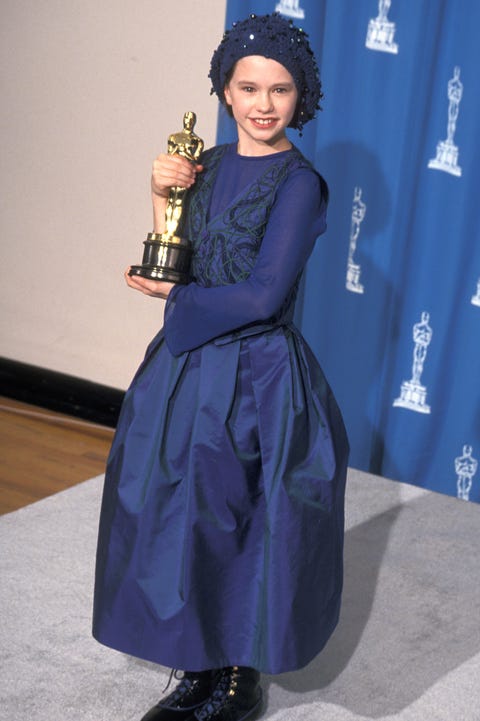 RON GALELLAGETTY IMAGES
Anna Paquin not only attended her first Academy Awards at the age of nine, but she also took home the prize for Best Supporting Actress for The Piano. She oozed '90s style in a navy princess gown with a matching vest and bedazzled beret.
1996: Halle Berry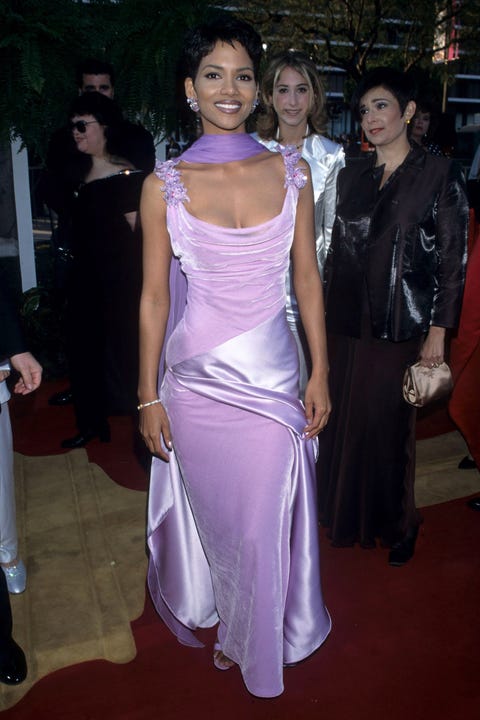 GETTY IMAGES
Eight years before her historic win for Best Actress in 2002, Berry walked the red carpet in this lavender number made of both velvet and satin — very '90s, yet she somehow made it look good.
1996: Sandra Bullock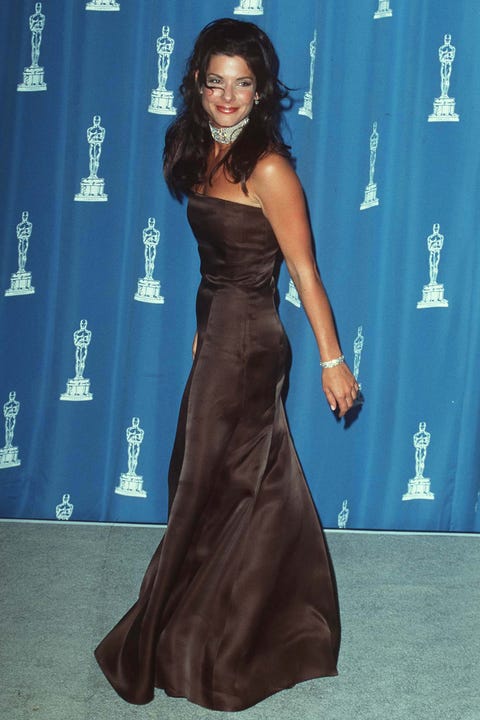 GETTY IMAGES
Sandra totally embraced the decade with this chocolate brown prom dress and poofy updo that she wore to announce the award for Best Sound Effects Editing.
1996 Kate Winslet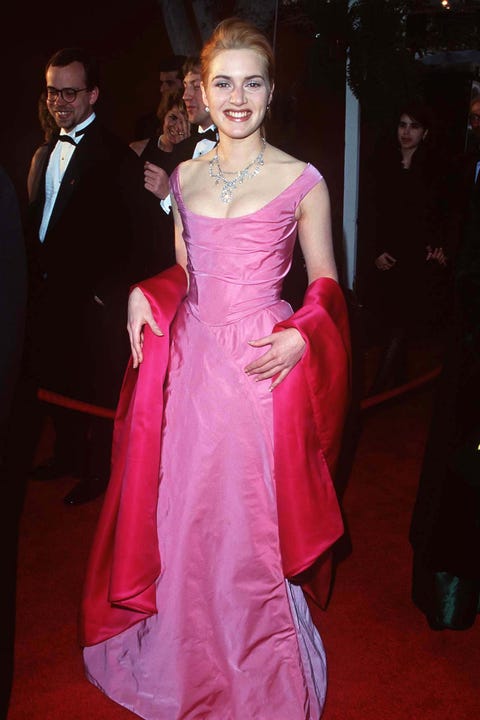 GETTY IMAGES
Nominated for Best Actress for playing Rose in Titanic, aka the role that skyrocketed her career, Winslet wore a bold pink Vivienne Westwood gown, accessorizing it with — what else? — some serious diamonds.
1997: Jennifer Lopez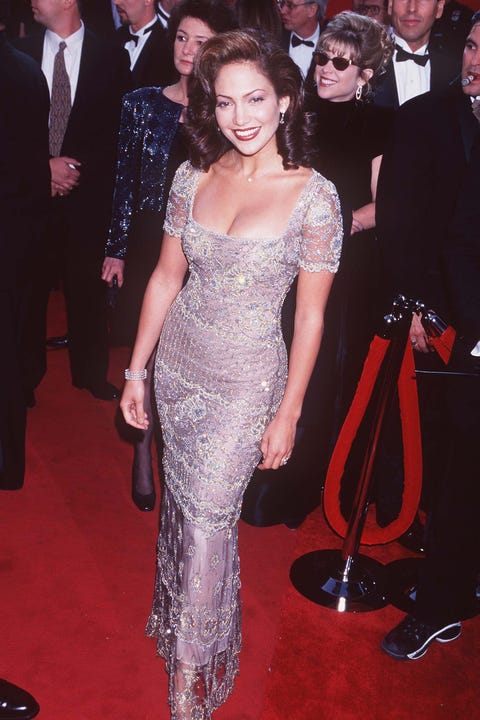 GETTY IMAGES
Ever the glamour girl, Lopez walked her first Oscars red carpet in a glittering beaded gown by Badgley Mischka, complete with a classic Hollywood hairstyle and an always on-trend red lip.
1999: Cate Blanchett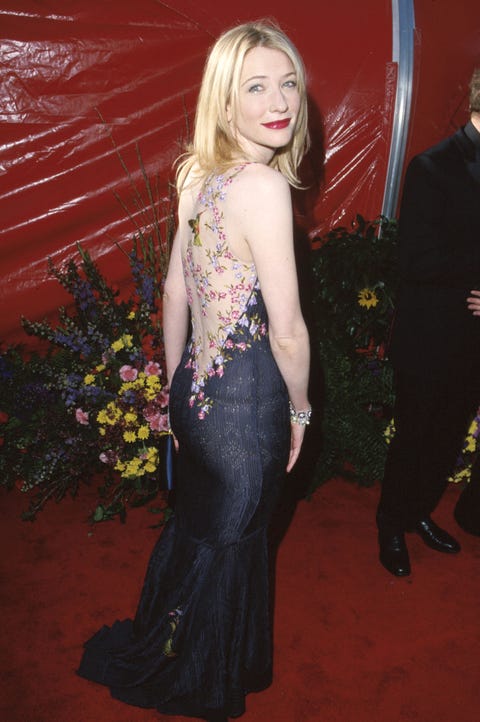 GETTY IMAGES
After earning several nominations for her role in Elizabeth, including a BAFTA, a Golden Globe, and an Academy Award, Blanchett hit the Oscars red carpet in a feminine and floral Galliano design.
2000: Dakota Johnson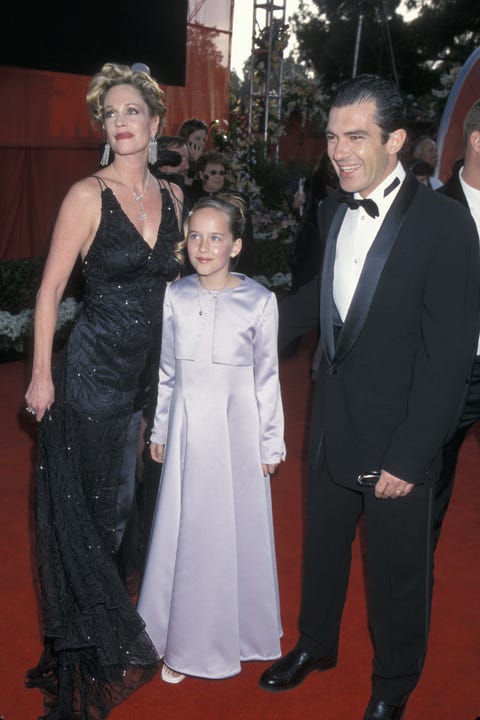 RON GALELLA, LTD.GETTY IMAGES
Before she was an actress in her own right, Dakota Johnson escorted her mother, Melanie Griffith, and stepfather, Antonio Banderas, in a satin lilac gown, complete with a matching jacket.
2000: Charlize Theron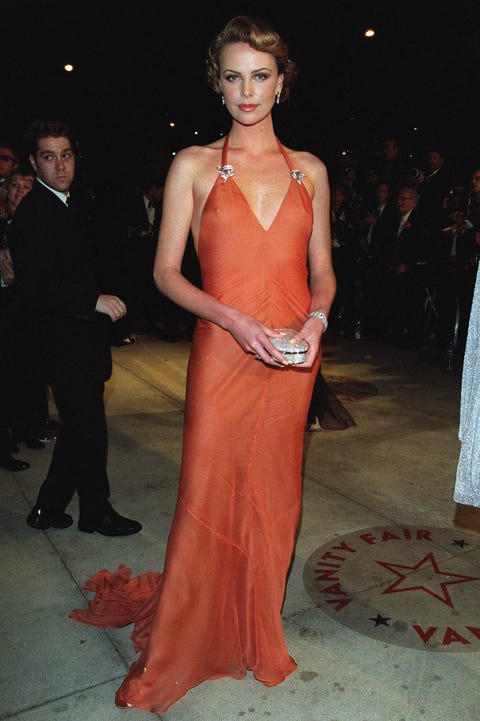 GETTY IMAGES
Draped in a stunning shade of tangerine, Theron positively glowed in this Vera Wang design at the 2000 Academy Awards.
2002: Reese Witherspoon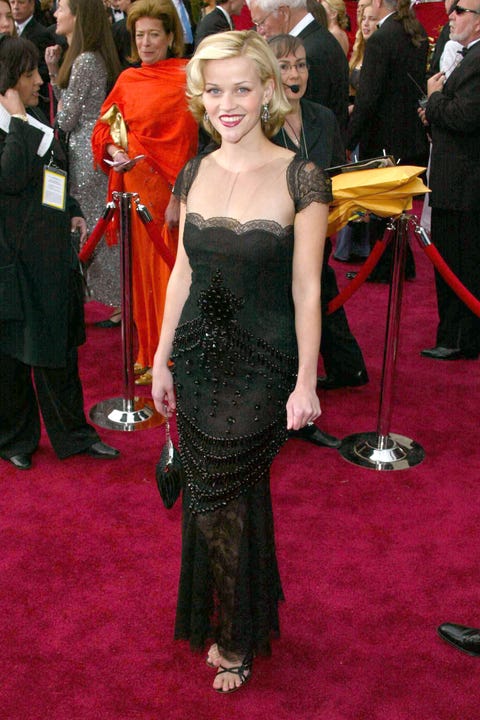 RON GALELLAGETTY IMAGES
Reese Witherspoon made her debut at the Oscars in a black vintage gown with lace cap sleeves and beaded detailing.
2003: Jennifer Garner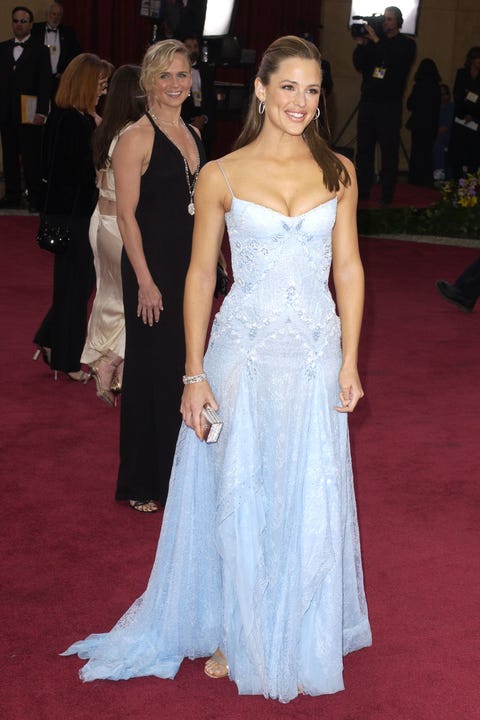 SGRANITZGETTY IMAGES
The Alias actress appeared bronzed and beautiful in a powder blue spaghetti strap gown at the Academy Awards in 2003.
2006: Jennifer Aniston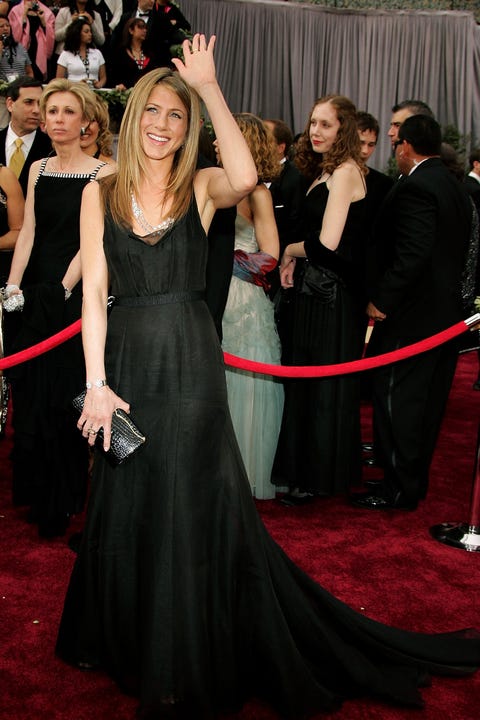 FRAZER HARRISONGETTY IMAGES
While presenting in 2006, Jennifer Aniston kept things simple in an elegant black evening gown, which she dressed up with a two-tier diamond necklace.
2007: Anne Hathaway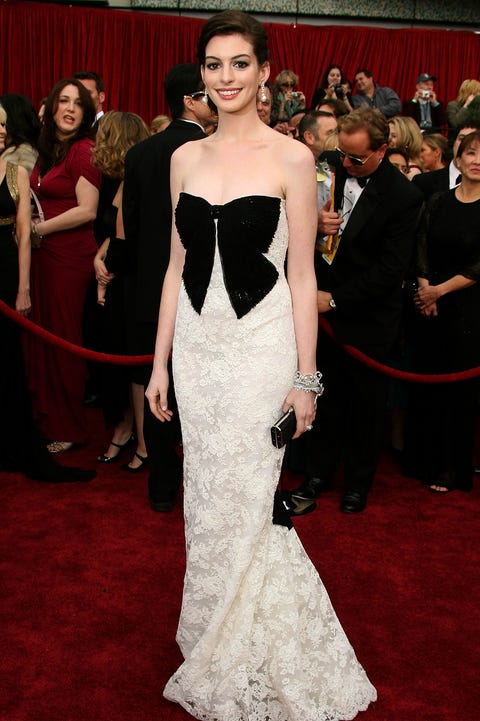 GETTY IMAGES
Presenting the award for Best Costume Design, Hathaway wore a white lace Valentino gown with a rather large, overwhelming bow across the bust. On the bright side, her style only got better the more Oscars ceremonies she attended — and won an Academy Award for Best Supporting Actress in 2012.
2007: Jennifer Hudson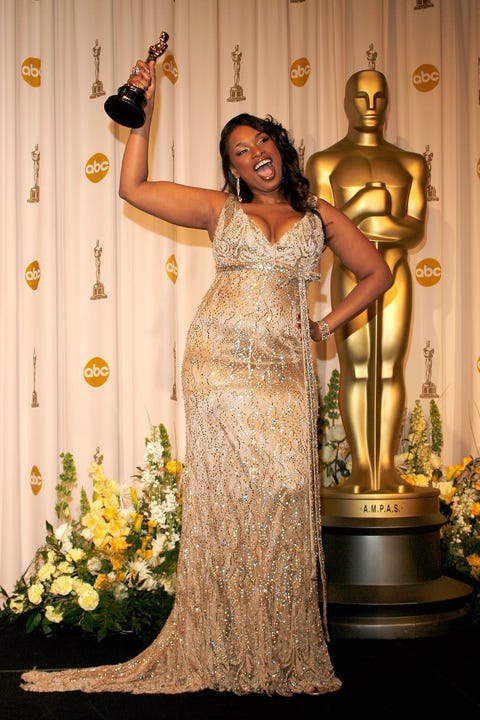 VINCE BUCCIGETTY IMAGES
After arriving in a brown spaghetti strap gown and silver jacket, the American Idol winner did a quick into a glittering beaded gold gown the night she won her Oscar for Best Supporting Actress in Dreamgirls.
2009: Viola Davis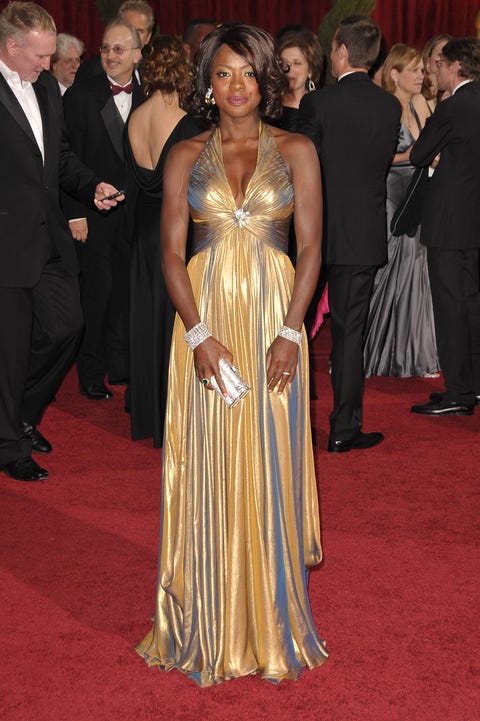 GETTY IMAGES
Looking as gorgeous as an Oscar statue herself, Best Supporting Actress nominee Viola Davis strutted down the red carpet in an iridescent Reem Acra gown, accessorizing it with glamorous jewels and voluminous hair.
2011: Octavia Spencer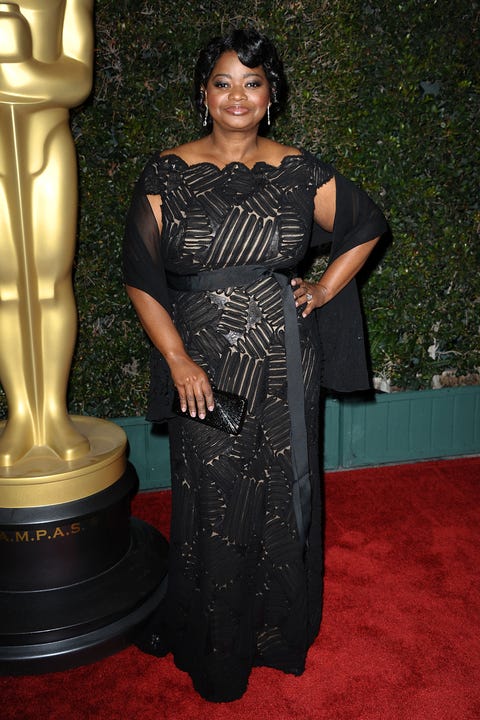 GETTY IMAGES
A year before her win for Best Supporting Actress for her role in The Help, Spencer wore a striking black and gold off-the-shoulder gown to the 2011 Oscars.
2011: Jennifer Lawrence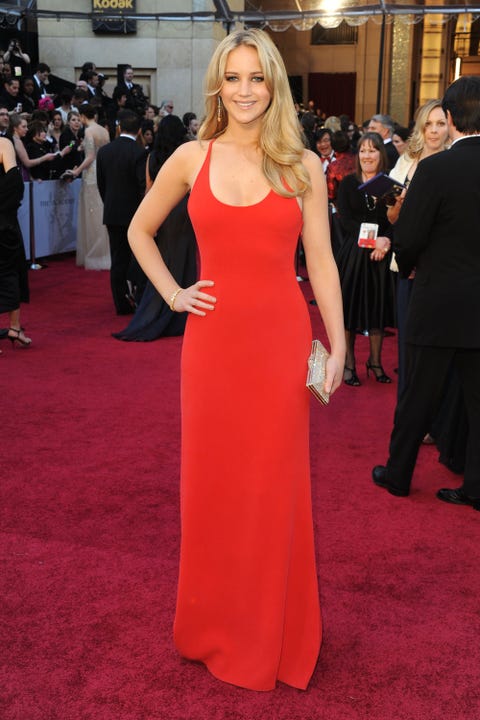 GETTY IMAGES
Nominated for her role in the acclaimed drama Winter's Bone, Jennifer Lawrence, then just 20 years old, walked the red carpet in a fiery red Calvin Klein Collection gown.
2011: Hailee Steinfeld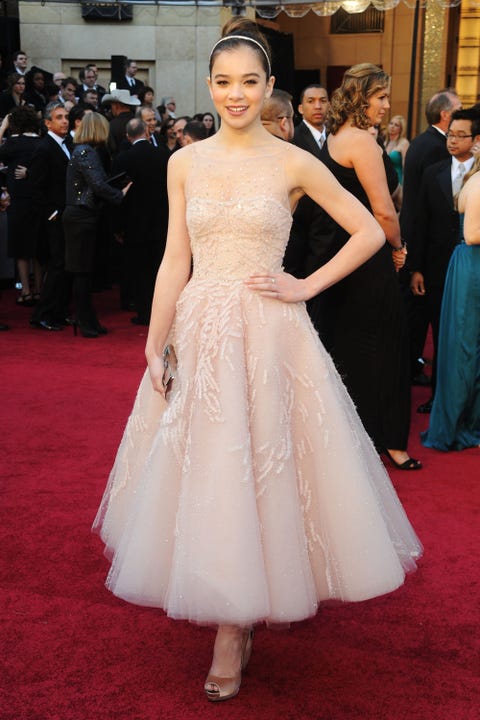 FRAZER HARRISONGETTY IMAGES
Hailee Steinfeld looked like a princess in a blush embroidered tea length dress and matching headband as she walked her first Oscars red carpet as a nominee for her role in True Grit at just 16 years old.
2012: Emma Stone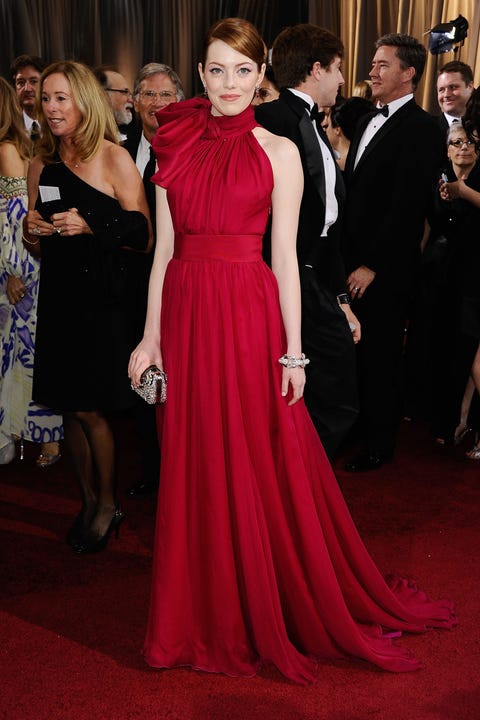 FRAZER HARRISONGETTY IMAGES
Emma Stone looked stunning in a scarlet high-neck gown by Giambattista Valli at the 84th annual Academy Awards, during which she served as a presenter.
2013: Alicia Vikander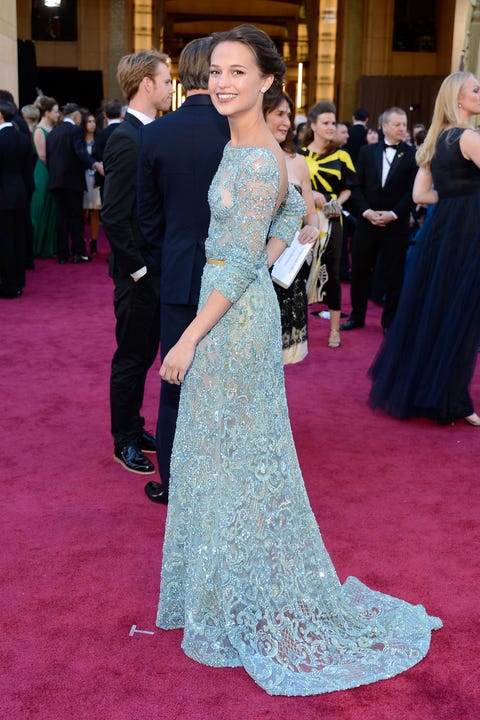 KEVORK DJANSEZIANGETTY IMAGES
The Swedish actress arrived at her first Academy Awards in a beaded light blue dress.
2014: Lady Gaga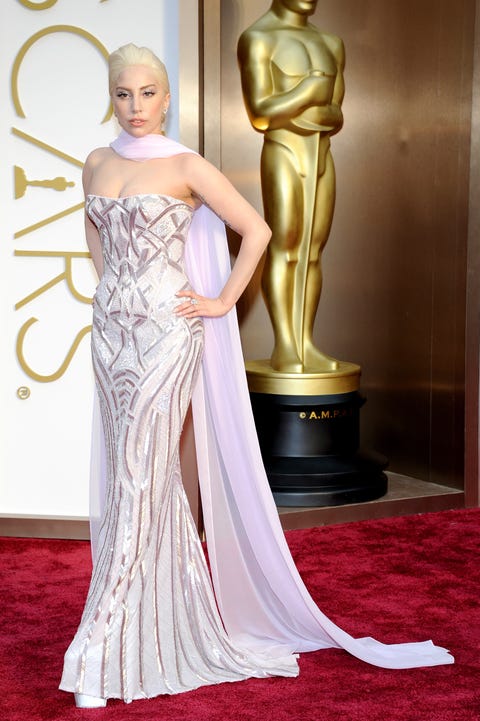 KEVIN MAZURGETTY IMAGES
Lady Gaga surprised fans with her elegant entrance at her first Academy Awards. The singer opted for a silver and blush Versace gown and sophisticated hair and makeup — but, of course, she rocked sky-high platform shoes by Brian Atwood.
2014: Lupita Nyong'o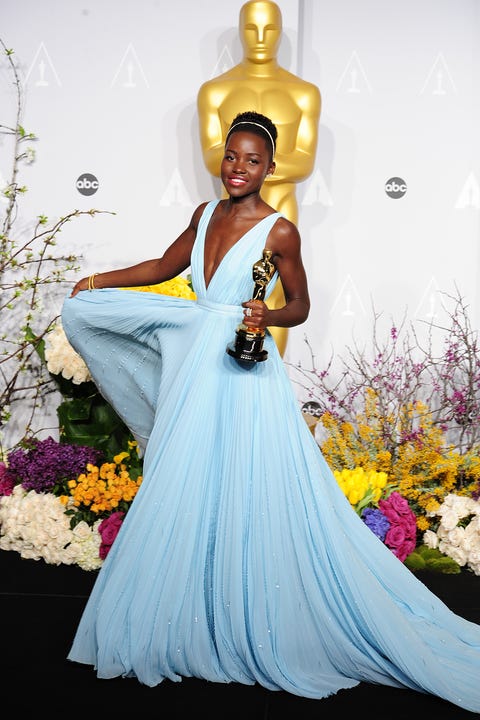 IAN WEST - PA IMAGESGETTY IMAGES
Lupita Nyong'o was nominated for her role in 12 Years a Slave in 2014 and stole the show in a deep v-neck powder blue pleated gown at the show. She's remained a fixture on the red carpet ever since.
2014: Margot Robbie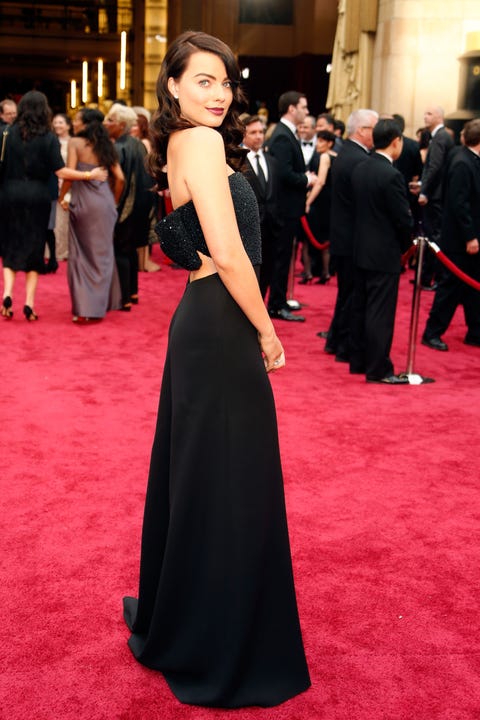 JEFF VESPAGETTY IMAGES
Her film, The Wolf of Wall Street, was nominated for five Oscars, so Margot Robbie earned a coveted seat at the show. The Australian actress sported dark brunette hair, which she paired with a black strapless gown with a beaded bodice and bow detail.
2015: Dakota Johnson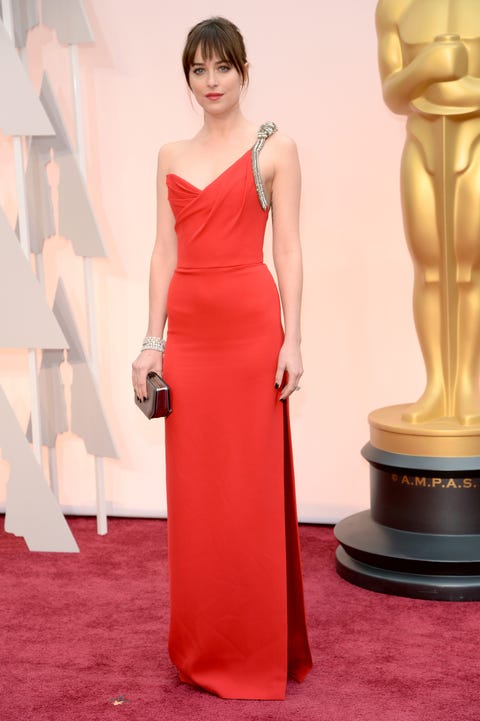 KEVIN MAZURGETTY IMAGES
Okay, Dakota Johnson's first Academy Awards show was when she was 10 years old, but the Fifty Shades of Grey star hit it out of the park in a red one shouldered Saint Laurent dress for her first trip to the Oscars without her parents.
2016: Brie Larson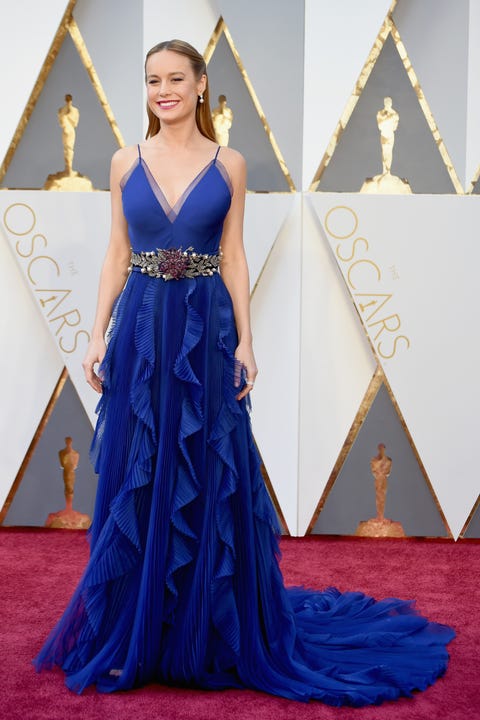 JEFF KRAVITZGETTY IMAGES
For her first trip to the Oscars, in which she won Best Actress for Room, Brie Larson stunned in a cobalt Gucci dress.
2018: Greta Gerwig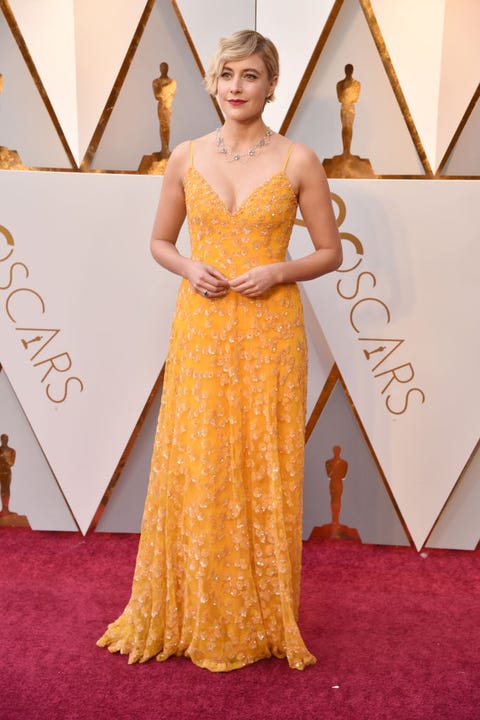 KEVIN MAZURGETTY IMAGES
The director, who received two Oscar nominations for writing and directing Lady Bird, looked glamorous in a tangerine beaded dress by Rodarte.
2019: Priyanka Chopra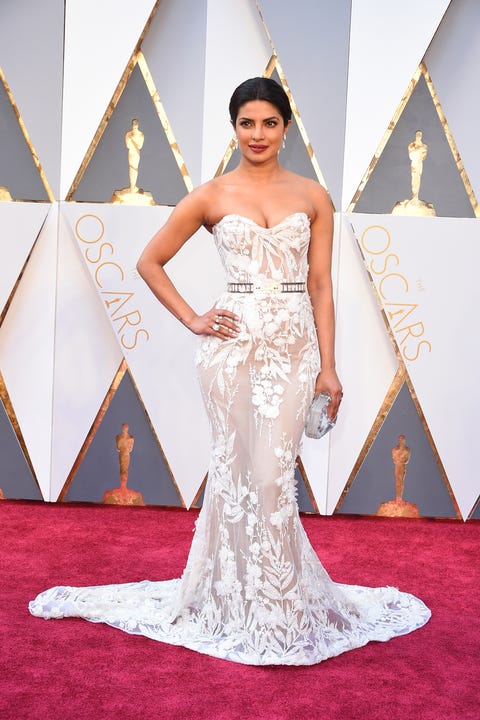 STEVE GRANITZGETTY IMAGES
Source: goodhousekeeping
What's Your Reaction?