I Plan on Wearing Old Navy's Houndstooth Blazer Every Day This Fall
It is so comfortable and looks way more expensive than it is. Everyone who knows me knows that I love Old Navy. The brand has really stepped up its game in recent years (or maybe it always has, and I'm just now taking notice?!). But I consistently find hard-to-shop for items there—jeans, coats, sweaters—and the best part is: EVERYTHING IS AFFORDABLE
Who wants to drop $500 on a blazer that they may or may not be into next fall? Forty or $50 is much more reasonable, in my opinion, which brings me to my hands-down favorite Old Navy discovery to date. Made of 86% cotton , 11% polyester, and 3% spandex, the new jacquard boyfriend blazer is extremely comfortable yet alarmingly professional-looking.
We have the houndstooth pattern to thank for this, which, fun fact, got its name because of its resemblance to the shape of a dog tooth! Back in the 19th century, it was worn in the form of wool coats by shepherds in Scotland. But if houndstooth isn't your thing, the blazer is also available in a white and grey plaid. It's also got a chic, notched collar with a single-button front and the sleeves have button cuffs. The coat's welt pockets and back vent arrive with factory tacking to preserve the shape of the coat during shipping (#thxoldnavy), but you can snip it off with scissors.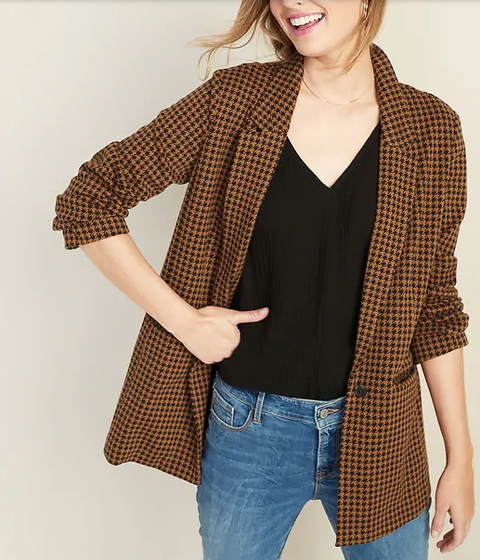 Jacquard Boyfriend Blazer for Women
This gem is already a bestseller, with more than 180 perfect, five-star reviews. "I've only worn this once and I've gotten so many compliments on it," writes one reviewer. "It's on trend but has a timeless look. The fit and quality are very nice. It is the perfect thickness for early fall. I'm definitely going to be buying the other design!" Speaking of fit, it's available in plus-size.
It's also worth noting that Old Navy has a pretty decent rating on the app Good on You, which rates fashion brands based on their sustainability. Old Navy is marked "It's a Start," or 3 out of 5. It has committed to reducing greenhouse gas emissions by 50% by 2020 and publicly reports on water reduction targets. It has the same rating as Athleta (also owned by Gap), a certified B-Corp. But of course, there's still a lot more the company could do in terms of eco-friendly materials and fair wages.
The only thing I don't love about the jacket is that it's dry clean only. But, that's what the new Febreze Clothing Odor Eliminator is for.
https://www.instagram.com/devin_tomb/?utm_source=ig_embed
That's me wearing the blazer IRL. If I look pleased with myself, it's because I am. So, before this hot ticket item sells out, join me in basically wearing pajamas to work while also looking and feeling super chic. I hope you love it as much as I do.
Source: goodhousekeeping
What's Your Reaction?