The Perfect Winged Eyeliner for Every Eye Shape
Trust us: It's easier than you think it is.
Winged eyeliner (or cat eyeliner) is an incredibly popular look that mystifies many — but the truth of the matter is that it's surprisingly easy to master. Really! You can watch this tutorial by YouTuber Adriana Braje (along with some 12 million others), and then see makeup artist Lavonne Anthony show us how it's done below.
But before you embark on perfecting that perfect feline flick, the first step (and the one that makes everything else so much simpler) is understanding your specific eye shape. Only then you can pick the best eyeliner for you. Our Beauty Lab's top pick is Sephora's Long-Lasting 12 HR Wear Eye Liner ($12, sephora.com), but below are some perfect picks for the best cat eye, no matter your eye shape.
Winged Eyeliner for Hooded Eyes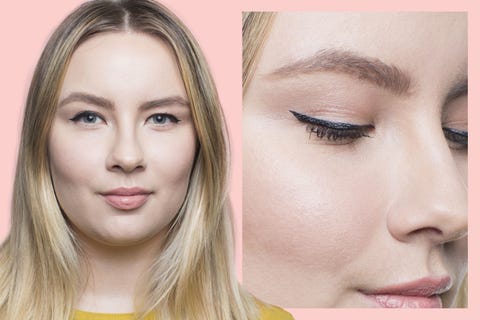 KAT WIRSING
If the crease of your eyelid isn't visible when your eyes are open, you likely have hooded eyes.
Many folks with hooded eyes get anxious about eye makeup, especially since most makeup tutorials only feature eyes where the crease is exposed. Don't fret: it's super easy to apply flawless winged eyeliner to hooded eyes.
To make sure the liner isn't concealed by your lid, create the outer wing tip where the lid's hood starts. Work your way inward, applying your liner in thin strokes and widening as desired.
GET THE LOOK
Precision Ink Eyeliner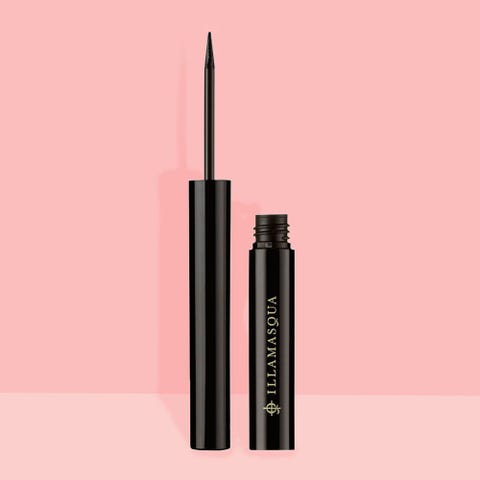 ILLAMASQUA
Love this liner? Lavonne used Illamasqua Precision Ink in Abyss to create this look.
Winged Eyeliner for Small Eyes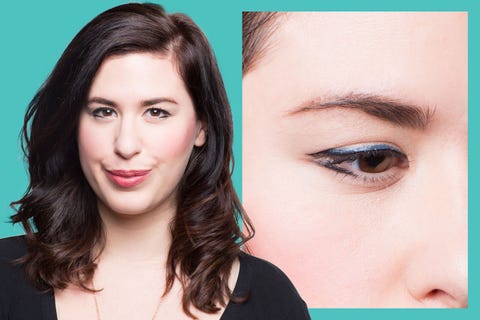 KAT WIRSING
If you have close-set eyes, Lavonne has a simple makeup trick that will play up their prettiness: widen your eyes by drawing a double wing.
Draw liner along your upper lash line, then make a small flick outward. Mirror this on the bottom lash line, but make sure you don't apply liner any further in than the middle of your eye, otherwise you'll give the appearance of even closer-set eyes. Apply a touch of concealer between the two wings to really make 'em pop.
For this look, Lavonne recommends using a powder to draw your desired shape, then intensifying it with liquid. If you make a mistake, just use this handy makeup removal trick to clean it up.
GET THE LOOK
Precision Ink Eyeliner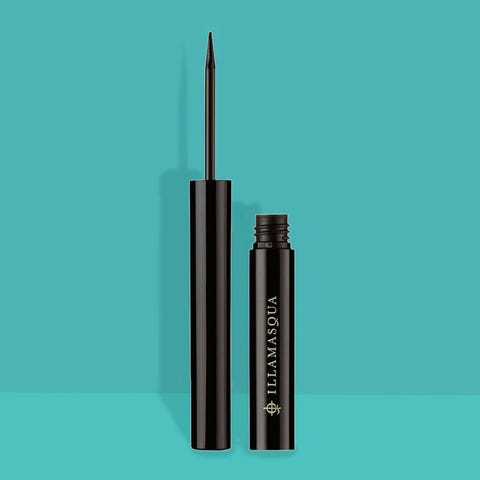 ILLAMASQUA
Ready to try it yourself? Lavonne used Illamasqua Precision Ink in Abyss here.
Winged Eyeiner for Downturned Eyes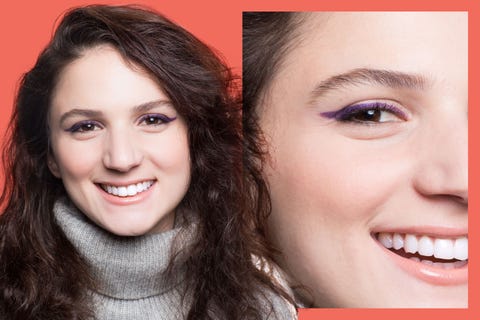 KAT WIRSING
If the corners of your eyes slope toward your cheekbones, you have downturned eyes.
For downturned eyes, Lavonne recommends applying your eyeliner from the inner corner to the outer corner in a thin line. Extend your wing up toward the crease, using the outer corner of your eyebrow as a guide (don't extend further!). Give your overall look a pop of color by picking a pretty shade that complements your irises.
GET THE LOOK
24/7 Glide-On Eye Pencil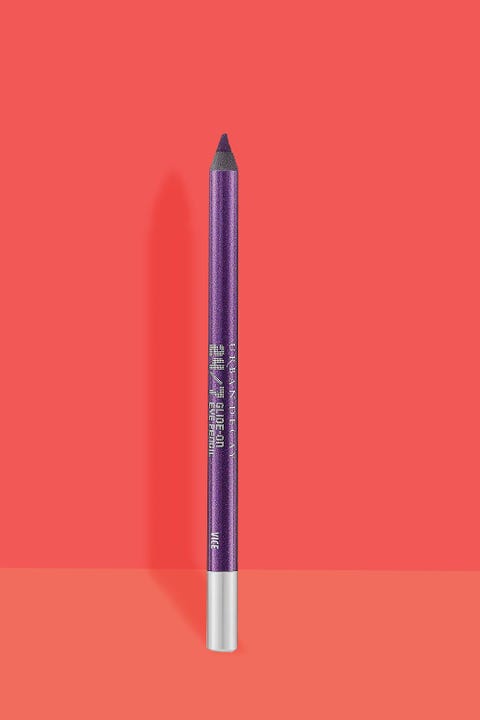 URBAN DECAY
Into the final product? Lavonne used Urban Decay 24/7 Glide-On Eye Pencil in Vice and Delinquent.
Winged Eyeliner for Monolid Eyes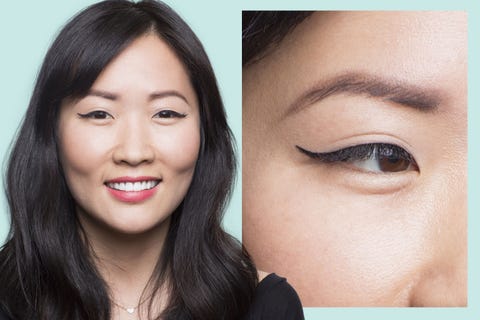 KAT WIRSING
If you have a very minimal or nonexistent crease, you likely have eyes with monolids. A thin winged look is ideal.
To get the look, Lavonne recommends using a liquid liner. You don't have much space with a monolid, so you want to maximize it by making sure the liner is crisp and straight. For the thinnest line possible, place the tip of the eyeliner on the lash line at the pupil, then draw to the outer corner. Then, start from the inner corner and draw it to meet the middle point.
GET THE LOOK
AMC Eyeliner Gel 77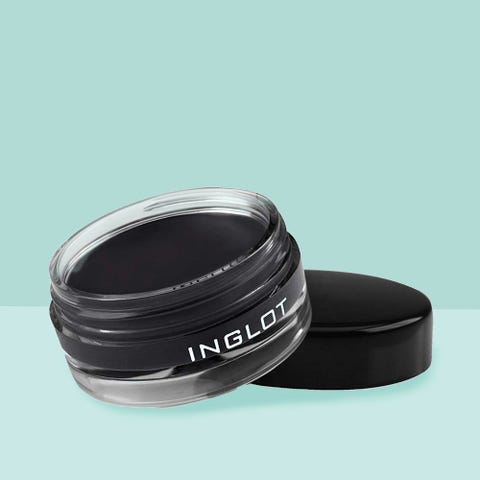 INGLOT
Like what you see? Lavonne used Inglot Eyeliner Gel in 77 on this model.
Winged Eyeliner for Monolid Eyes - Dramatic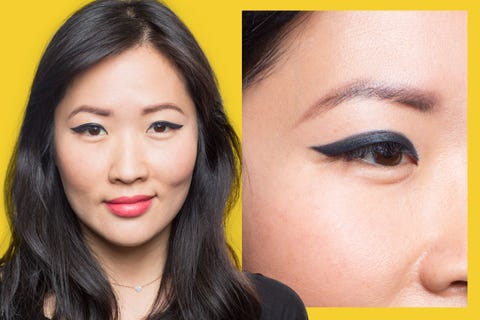 KAT WIRSING
There are so many versions of cat eye makeup, and monolids are the perfect canvas to experiment on.
For this more dramatic style, Lavonne recommends a much thicker line — continue to thicken the original look by adding layer after layer until you reach your desired thickness to cover the lid.
GET THE LOOK
Everlasting Kajal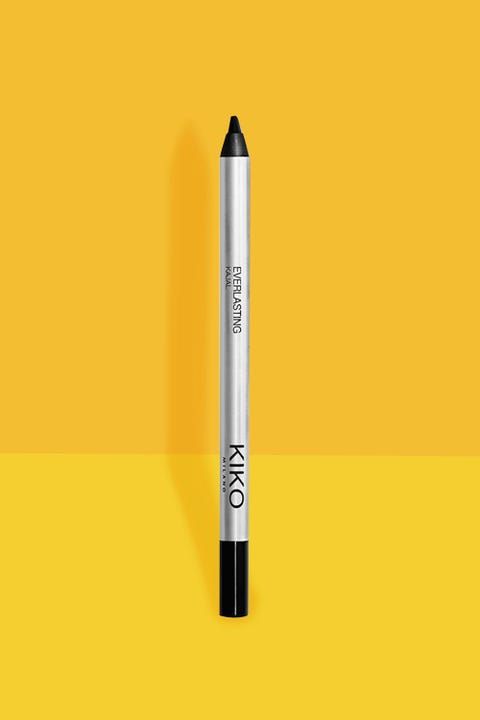 KIKO COSMETICS
Pretty, no? Lavonne used Kiko Cosmetics Everlasting Kajal to make this magic happen.
Source: goodhousekeeping
What's Your Reaction?